My money back guarantee is perhaps unlike what you've experienced before. It's meant to have you take big action and results. Why? Because I believe in Personal Responsibility and I have a low tolerance for excuses. or people who take advantage of me.
Please know this about me (and I hope you can respect me for this): I give an unbelievable amount of value in everything I offer. In fact, my students and clients all say the same thing, "Fabienne, you always over deliver. I've never gotten this much content or this much value before, anywhere!"
That said, I want this program to work for you, just as much as you want it to work for you. That's why you have the option to take me up on my "make-you-happy-money-back, all-the-risk-is-on-Fabienne" guarantee.
This Coaching Program has to create internal shifts quickly — or I'll pay you your money back. I know in my heart how much this Inner Game Coaching Program is going to change your life and that it is the most targeted, most complete, most fun, and most useful mindset course you've ever experienced. And, that it will create results for you in the form of new clients and more money in your business, when you do it all.
Now, for some crazy reason, if you're one of the only people who's not getting results from it, just let us know with 30 days of your purchase date, return your materials in full resale condition and I'll give you a full refund. That's my guarantee and you have my word on it. (Yes, really!) That's my promise.
I also believe that a guarantee is a two way street.
The guarantee I offer is conditional and based on not only what I do but on what you do to get results. If you ask for your money back, I will ask you for your completed assignments. I want to see everything you've done and I want to know that you went through the program not half-heartedly, but in earnest, with commitment and dedication.
I want to see that you went through your materials in a timely manner, that you did your assignments fully, that you showed up for the coaching calls and that you sent in questions, that you made your daily accountability phone calls a priority and that you participated in the Facebook forum. If you can show me all this and that you really worked the program, and if you still didn't get results, then I will be happy to refund you. It's only fair.
Otherwise, the guarantee becomes null and void. That's because you can't get results from something you don't do. The fact is, there's not much I can do to help a person if they're not willing to help themselves. (Make sense?)
The great thing about this guarantee is that it reverses the risk for you, while at the same time, I get solid assurances that you will do your part to ensure your success within this coaching program.
Like most things in life, what you put into something is what you get out of it. The more committed you are to something, the more time and energy you put into it and the more you want it to work, the more you'll see the results you want and need.
Let's face it: It's like working with a nutritionist on losing weight. If you're still eating a bucket of fried chicken a day, ice cream and cake all day long, and not working out, you won't lose the weight. And your nutritionist can't be blamed for you not doing the work, right? (Corny example, I know, but you get my point.)
Now remember, although most people get results in weeks, if not days, this coaching program is not a "quick fix," it's not magic and it takes a few months for the seeds to grow, but all my clients who have diligently applied every step of The Inner Game Coaching Program have successfully grown their businesses, in much less time than they would have on their own. Best of all, most clients are excited to report that they were able to cover the coaching investment as a direct result of our work, often with just one or two new clients they got out of being in the program. You can see results by reading the program reviews here.
[divider]
Enroll in the Inner Game Coaching Program ... Today!
[curved]
Option #1:
The "environmentally green" option.
You get immediate digital, online access.
Hint: This is the best deal.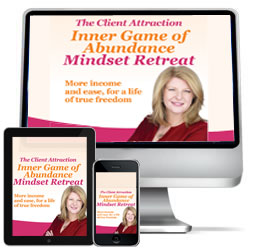 You receive digital online-only access to all the course materials, including videos, audios, and PDFs of all content and extra materials (which you can download onto your iphone, ipad, or computer or just watch online). This is the ultimate on-the-go learning.
$997
pay-in-full tuition
(Yes, you can take us up on our
generous installment option
for a limited time.)

Option #2:
The "I-must-be-able-to-hold-it-in-my-hands!" option.
You receive a big box in the mail
with all the yummy course materials.

You receive a big box in the mail with your 3-ring binder full of content, all 14 DVD's and 22 CD's and extra materials, all shipped right to your door (and yes, we also give you immediate online access so you can get started right away, along with everyone else)
$1,297
pay-in-full tuition
(Yes, you can take us up on our
generous installment option
for a limited time.)

[divider]