You may still have a few questions. To help you determine whether The Inner Game Coaching Program (IGCP for short) is the right investment for you, I've answered your questions below…
Q: "Fabienne, who is this Inner Game Coaching Program for? How do I know if this is the right program for me?"
The people who benefit most from this program are people who are yearning for a breakthrough in their business, in their income and their level of meaning, fulfillment, happiness and the level of abundance they are experiencing. It can be for someone who is already very successful (wanting to get to the next level) or the person just starting out in their journey of growth.
It's for you if you know deep in your heart that you want to be getting greater success from your work and experiencing more abundance (money and otherwise) in your life, but somehow you're either not there yet, or you've been getting in your own way. Once you go through the curriculum and do the assignments along with us, the IGCP will shift all that for you, in a matter of weeks if not days.
Q: "For what type of professional is this Inner Game Coaching Program NOT going to work?"
This program isn't for everyone. It isn't for whiners, chronic complainers, or cranky skeptics who make excuses and blame others for every bad decision they've made in their life. Here's the deal… In my life, I really only like working with fun, caring, open, spiritually-oriented people, who are ready to make changes in their lives.
With this program, I am creating a safe space so we can learn together, experience transformations, camaraderie and support, and so you can create amazing relationships for growth and support. The bottom line is I want us all to have a blast in this program. A lot of fun.
So, I want to make sure I'm really clear that this program is only for people very serious about getting their mindset clear, making more money, and being open, authentic and very efficient business owners. It is not for people who make excuses and resist or question every proven suggestion I will give them, just because that's how they operate in their own lives. If you are a negative or consistently skeptical person, then I promise you, this program would be a waste of time for you, because we WILL be taking a no-excuses approach to you getting what you want in your business and your life.
Q: "What if I don't have a business yet. Will any of this be applicable for me?"
While the majority of our students are indeed business owners (simply because that's the niche of the population I primarily work with) 99% of the IGCP curriculum also applies to those who do not have a business. The key denominator is that people who thrive from this program are what I call "advancing people" who want to become even more successful at what they do, no matter if it's growing their business and making more money, saving more lives in third world countries or simply raising their children with a better mindset. It works for everyone who wants to have a better future.
Q: "What if I sell a product instead of a program, and that I'm looking for more customers instead of more clients. Will this still be applicable to me?"
Yes, this applies to everyone, not just people who are looking for new clients. As long as you're looking to go beyond your current limits and create greater results in your business, in your life or in your service to others, then yes, this is just the right program for you.
Q: "Fabienne, how are you qualified to talk about mindset and how it can help you multiply your business?"
Just a few short years ago, I seemed to have a glass ceiling right above my head when it came to my income. I was watching others continue to multiply their businesses over and over again, making huge leaps in their income and visibility, while I seemed to only be taking teeny tiny incremental steps forward. I was frustrated and started thinking something was seriously wrong with me. Why was this seemingly so easy for others and yet I was working sooooo hard and not seeing such great results.
That's when I began doing some personal growth and spiritual development work, clearing out the gunk, allowing myself to shift my inner game for unlimited abundance and success in my business and getting out of my own way. I worked with countless coaches and healers, I read a ton of books, invested in programs and attending seminar after seminar, and each time I did, I made more money.
I've since multiplied my income many times over, created a multi 7-figure business from nothing, I am blessed to work with hundreds of clients and thousands of students each year, and my company has repeatedly been ranked by Inc. Magazine as one of the fastest growing private companies in America. Most importantly however, I've created the ideal life that focuses on being with my husband and 3 little children, and my heart is full as we are now building 5 schools in Africa (this is just the beginning of my charitable work.)
After spending close to $200,000 on my own Inner Game transformation, I realized that everything I needed was not available in one place, and certainly not in a step-by-step process, so I began diligently putting all the steps that worked for me in a verifiable, repeatable and proven system that would work for anyone looking for a transformation in their mindset and results. It's the shortcut to income acceleration and this series of proven steps are now the Inner Game Coaching Program.
Q: "What exactly is The Inner Game Coaching Program and what does it include?"
Shifting your inner game begins with understanding that you must stretch your vision of what you see as possible for yourself, get rid of the reasons you play so small and then take decisive action and acting in faith. Then, it means taking serious action on it. Here's what the IGCP system covers:
Module 1: Dream bigger
How to realize you're currently playing too small
How to stretch your vision of what's possible for you and your business (and legacy)
How to have clarity of intention (instead of being confused about what you want)
How to discover your life purpose and then align it with your efforts
How to command abundance into your life
How to discover your "big why" behind it all and make it come to life
How to safely stretch your business goals and actually reach them
How to see the opportunities for growth that are right under your nose
The formula for instantly manifesting what you want
Why you don't need to worry about how you'll reach your goals
The one thing you'll eliminate from your life so you accomplish more
How to afford anything in your life (today)
Module 2: Clear and upgrade
Why what you want hasn't happened yet
Why you're actually currently repelling what you say you want
How to resolve your inner conflicts that are sabotaging your success
How your mindset actually creates your reality
The 22 clues that will show you if you're actually attracting what you want
How to get clear on your money consciousness
How to determine whether you have an "abundance mentality" or a "lack mentality" and where it came from
Why having money is good
How to unearth your core beliefs about money and success (those that either propel you to success or draw you to struggle)
How to change your beliefs from negative to positive
Why you are easily capable of greatness, right now
Why your purpose for being here is much, much bigger than you think
How to upgrade your self-image and what you believe to be true about yourself
How to reprogram your definition of how successful you can be
How to determine which exact fears stop you from being more successful
How to eliminate fear from your life, immediately
How to forgive anyone or anything that's happened to you
The specific and very simple things you unknowingly do to stop abundance from entering your life (and how to stop doing them)
How to eliminate competition and comparison from your life
How to no longer be affected by criticism and stop caring what people think of you
Module 3: Commit to the vision and act with faith
How to take action on your big goals even if you don't feel like you know enough or aren't qualified yet
How winners do things differently than others (and what they do that you can model immediately)
How to become a superstar in anything you want to accomplish
How to deal with disappointments along the way
How to get crystal clear direction on what to do next to reach your goal
How to stop procrastinating, delaying and instead, take immediate and decisive action toward your goals, every time
How to get past resistance
How to deal (and get beyond) the fear, doubt and worry that keep you playing small
Why misfortunes in your life are actually very good
How to comfortably stretch beyond your existing comfort zone
How to be courageous in shifting your inner game for unlimited abundance and success
Why you always have a parachute and safety net under you
How to not get side tracked by negativity
How to be unwavering in your efforts
How to achieve anything you set your mind to, without struggle
How to easily upgrade your everyday reality and quality of life (without draining your bank account)
How to surrender into your calling and fill your life with meaning and fulfillment
Why all of this will turn on the faucet of abundance in your life so that money flows effortlessly to you
I always over-deliver, so there are hundreds more subtleties and concepts to help you, but that's a good place to start, don't you think?
Q: "When does this program start?"
The program starts when you start it. If you want to enroll now and start in 2 weeks, then by all means you can do so. If you're traveling, you can begin the curriculum as soon as you get back. And if you're like me and you want to start immediately, you don't have to wait. It's available for you to use at your convenience, with lifetime access to this material, so you'll never miss out or fall behind.
Q: "I have a pretty packed schedule which means I may miss one of the calls. What can I do about that?"
No problem! We always record each and every coaching call and make it available for you to listen to online, usually within 24 hours of the live call. So that means that if you have to miss a coaching call for any reason, you're not actually missing the huge content that will be available.
It's there for you to listen online or download it to any of your preferred devices (computer, iPod, iPad, iPhone, or whatever you prefer.) This is especially useful if you live several thousand miles away and the calls happen in the middle of the night for you. In that case, simply send in your question to your Program Advisor via email and I'll try to get to as many of these as I can, in addition to the questions I get from those attending live.
And listen, if you DID attend the live calls and you really want to hear what I had to say again (I'm known for giving exact phrases or scripts for talking to clients or verbiage for your website) you can just note how far in I spoke about it and go back to the audio the next day to hear it all again and take notes.
Q: "Will my Daily Accountability Buddy be assigned to me? How does that work?"
As soon as you join the program, you will have an opportunity to select a Daily Accountability Buddy, another Inner Gamer. It's entirely your choice who you work with and you can select someone because they're in the same industry, or perhaps in the same time zone or country. The key is to focus on selecting someone you will resonate with and someone you will enjoy speaking to for 5 minutes each day, holding each other accountable for implementing.
Q: "How much time do I need each week to do this?"
It really all depends on how you want to go through the program. Some people do the whole thing in a weekend, and others take 12 weeks.
Personally, I recommend that you watch one video a week, which means all said, you can commit about 2 hours a week, to watch it and then do the assignment as we go along.
If you prefer to do one video a day, then 2 hours a day, but that's only if you're super ready to get results.
Q: "How many other students are in the Inner Game Coaching Program?"
It's difficult to say with certainty exactly how many students will be in the program at any given time. However, you'll love that there will be enough other "Inner Gamers" to support great collaboration, fantastic networking and joint-venture opportunities with your peers (the other Inner Gamers) as well as small enough to create a close-knit bond with them in the Facebook community and direct access to me on the calls.
Rest assured, the program has been created with your success in mind. We believe that (and often say) "everything you need is in this group" and this has proven itself time and time again.
Q: "The program sounds amazing but I think I want to implement all this information on my own before I get started… Is this the right thing to do?"
It's been my experience, from coaching thousands and thousands of business owners, that when they are left to their own devices to implement on their own, it inevitably fails. Why? Because entrepreneurs are people who are strong "starters", eager to begin new things, but not strong "finishers". On your own, and without accountability, you'll likely implement some of the elements.
However, with the support of a strong coach (me) giving you step-by-step guidance, answering your questions, getting you unstuck when you get stuck, giving you daily accountability and the unconditional support of a structured environment of peers who care about you, your implementation increases dramatically.
Without it, you tend to go back to your old ways of doing things and create slow results. This is why I am ALWAYS being coached and mentored, too. I wouldn't implement as quickly if I didn't have that high level of accountability myself.
Q: "I'm in another mastermind/coaching program right now. Should I wait until that one is done before enrolling in the ICGP?"
If you are currently working with a coach or mentor or you belong to a mastermind group, congratulations! And yet don't fall prey to the false assumption that you can get everything you need from just one person or program. Both Derek and I belong to more than 4 mentoring programs—masterminds and working with their own mentors. Why so much mentorship at once? Because we don't subscribe to the erroneous belief that you can only work with one mentor at a time.
We work with different mentors with different skill sets in different areas of business growth, spiritual principles and mindset, etc. And as a result, we have infinitely more accountability and access to resources than we would have otherwise, and so we take SO much more action than if we were only doing one program.
Most importantly, thought it's important that you understand something: if you want an increase in your income now, if you want a shift in your business, then you must take action now.
My question to you would be… why would you unnecessarily delay the results you could be experiencing now?
Q: "I know I belong in this program but I'm not sure I can afford the tuition right now…"
When any opportunity for growth is presented to you, it's important to evaluate it based on the value and specific results you will receive from it, not from what it "costs". When looking at my own opportunities for investing in myself, I use a '4x model'. "If I implement everything that is presented to me in the program, using the expert coaching, step-by-step methods, support and accountability that are built in, is it likely that I will make 4 times my investment back in the program in the next 12-24 months?"
If the answer is "YES!" then indeed, it is a very good investment. (This is why I continue to invest in myself each year on different coaching programs, and I get returns that are 4-10x that as a result.)
Students of the IGCP are thrilled to report that the program pays for itself in the form of new clients quickly, and then some, with many making back their full-pay investment in a matter of weeks, sometimes days (you can read the program reviews to witness this). The structured environment, coaching and curriculum ensure that you take action very quickly and consistently. This results in new clients that essentially pay for the program.
Obviously if this investment is going to bring financial hardship to you and your family, even at the low monthly installment level, then you may not be ready. But realize that if it IS within your comfortable grasp, then investing in yourself is the BEST investment there is because you get results that pay for the coaching and then some, and you can use the learning for the rest of your career.
Q: "Fabienne, it seems that you attract a lot of women to your programs. In fact, your website colors are pink and orange. Are guys allowed in the IGCP?"
You know, years ago, I had a website that was dark blue, yellow and red, and even though none of my programs have ever been gender-specific, I have always attracted a large percentage of women to my work. For years, I didn't understand this because I'm a strong female (although admittedly more 'woo woo' in recent years), but one day, my husband Derek said, "Fabienne, let's just call a spade a spade. You work mostly with women, your favorite colors are pink and orange, so just be your most authentic self in your branding."
So I made the switch branding-wise, and I changed our tagline to have it refer to 'women entrepreneurs'. That said, we also attract lots of confident men who know who they are, who don't care that there's a lot of pink on the website, who don't mind if I throw in a some 'woo woo' stuff here and there, and who are open enough to recognize that great value can come from anywhere, including a program where 85% or more of the participants are likely to be women.
Please know that the curriculum is not gender specific. We love guys. We think they're great and there is absolutely no bias here. In fact, in the curriculum, you'll see how, at one point, the guys get a huge standing ovation.
Q: "I want to apply but I'm not so sure my spouse will be ok with the investment… How do I get my spouse to support me in this decision?"
You can direct your spouse to ClientAttractionSpouse.com to view a special video message from me and Derek about the importance of supporting a spouse in the growth of their business and the mutual benefit it can provide for the partnership when involved in a coaching program.
In our experience, spouses who don't know the coach or who don't understand the details of the coaching program being presented don't always immediately see the value in the investment. Typically, the spouse is skeptical and wants to be reassured that this isn't just another 'bright shiny object' for the entrepreneur, but rather, something that is going to produce real results and provide a substantial return on investment. My husband Derek and I have been there and we honor that!
Here's what you do…
When presenting the opportunity of joining this coaching program to your partner, it's important that you show your spouse, 1) what the program specifically entails, 2) what solutions it provides, 3) what makes it different from other programs you've experienced, i.e. the daily accountability structures, 4) the vast number of success stories from others who've gone through it and the results they've gotten.
That's the most important: be sure to sit down with your spouse (or business partner) to read the program reviews and success stories. In the end, your partner simply wants the best for you, and when you describe what you'll get and what your return on investment will be, you will likely have full support!
Q: "What results can I expect?"
This life-changing coaching program is a systematic approach to clearing your internal blocks that will then help you get more clients and make a LOT more money, without the effort you're experiencing now. Here's what you'll experience in the IGCP:
You'll expand your vision of your purpose beyond what you're currently doing now
You'll discover that everything you want to achieve or manifest in your life already exists and is within arms reach, and that all the tools you need to access them are already inside you
You'll see that the opportunities for you to transcend to your next big level are actually under your nose right this minute
You'll shift the way you think about money (your lack consciousness will shift into abundance consciousness)
You'll understand what stops you from making more money and to change that in a matter of hours
You'll find out how to immediately upgrade your self-image, how you see yourself, and why this is so important for your business
You'll discover the simple process for stopping the "white knuckling" control that fear has on you now so you can then do what you've been unwilling to do before
You'll discover your "big why" and shift the way you think about being aligned with your purpose
You'll discover how to remove your own self-imposed obstacles and live the life you have always dreamed about
You'll release the resentments and judgments you have of other successful people that gets in the way of you experiencing great abundance
You'll immediately shift your limiting beliefs about success, money and how much you can charge, as well as how many clients or customers you can have
You'll experience a breakthrough in acting in spite of your fears (the ones that hold you back from increasing your business dramatically)
You'll free yourself from what others think of you, especially "small thinkers"
You'll also free yourself from the criticism and rejection you've experienced in your life
You'll understand why there is actually no limit to how much you can make or what you can do in this life, no matter what your current circumstances are
You'll release the hand brake of your internal blocks that get in the your way
You'll realize how and why you can safely take much, much bigger risks in your life (and what you can use as a safety net when doing so)
You'll begin to truly honor and value yourself and your purpose here
You'll realize very quickly that you ARE enough and that you ARE deserving of all the greatness that is at your fingertips
You'll get the one most important tool you need to get past gripping fear and transcend into much bigger results in your life
This is just the tip of the iceberg of what you'll get, and you'll experience many, many more breakthroughs that will have you create astounding new results in your life, without struggle.
That is when the faucet of abundance gets turned on and flows effortlessly for you (I've experienced it and hundreds and hundreds of my students have too after going through this mindset-shifting process.)
Hint: it's not about working harder; it's about shifting the internal gunk that stops you, changing your mindset around money and releasing mediocrity.
Q: "Does this really work?"
Yes! The result of our work in the IGCP is a shift in your mindset, so that over time and with your dedication, you get out of your own way and experience more success in your life and with your income. (See the program reviews)
Q: "How quickly can I expect results?"
Obviously, this depends on how quickly you complete the program and on how much you put into the assignments that we give you. That said, virtually all students of this program see results within the first 30 days in the form of new clients and new prospects, clients who stay longer, more revenue, turning more prospects into paying clients and more referrals from these clients.
Q: "What do I need to do to get really good results?"
The short answer is… do all of your assignments and fieldwork.
Be totally focused on this program. Understand that it's not a "quick fix," it's not magic and it takes time to plant the seeds and for those seeds to grow into the fruit that you can enjoy.
All my students who have diligently applied every step of the Inner Game Coaching Program have successfully grown their businesses, in much less time than they would have on their own AND have made more money than they've made doing what they do, often in a matter of days.
Q: "Will I recover the investment I put into this coaching program?"
Yes, a resounding 'Yes'.
Many students are excited to report that they were able to cover their investment often with only one new client and that this happened very quickly.
I want you to stop reading for just one moment to ask yourself, "What is a new client worth to me, and what is the average revenue I make from the lifetime of that one client?"
Chances are, that amount will more than cover your coaching investment. Most likely, you will make 10 times what you invested in this program in the next 3 years. The information and skills you learn in the IGCP will likely net you 100 times what you invest in the next 10 to 20 years…something to think about.
What you're regularly getting with this program (and my coaching) is a series of internal shifts that will move your business faster than you would on your own.
Q: "Fabienne, I've joined other programs in the past that didn't deliver what they promised and I didn't get results and so I'm a little apprehensive. How is your program different than those others?"
First and foremost, I want you to get that we wouldn't have hundreds and hundreds of happy "raving fan" students if this program was bogus and if it didn't deliver what it promises. In fact, the biggest feedback I get from our IGCP students is how truly blown away they are that there's so much more value here than they expected. (We think you'll be happily surprised too, in fact, we expect you to be.)
That said, no program on earth will work if you don't apply yourself to it. No, you can't put this material under your pillow and expect it to telepathically seep into your brain and miraculously change your life if you don't go through it and do the assignments.
If you are expecting me to do the work FOR you, instead of doing the work yourself, then please don't sign up. This isn't for the lazy person who feels entitled to results without doing the work or who thinks that it's a "get rich quick" scheme where you take a pill and magically, you are transformed. Yes, many people make a lot more money, sometimes very quickly, when they go through the work and diligently do the work, but just as I can't help you get fit by running on the treadmill FOR you, you must do your part in it, right?
That's why we've put together such a solid accountability structure in place for you, as I mentioned on the video and in the info-page. With the Daily Accountability emails, the structured call schedule with me answering your questions, the private Facebook group for additional support and resources and your Daily Accountability Buddy calls, we've made sure there is NO WAY you will not get results.
That's why we confidently set up a 30-day money back guaranteed, meaning, you're eligible to get your money back if you diligently applied yourself, did all the work and didn't get results. The money-back guarantee is conditional, meaning, if for whatever crazy reason you don't actually get results, all you have to do is send us all your completed homework. We want to make sure you went through the whole program and did all the work. If so, and we see that you really applied yourself, we'll promptly refund you.
We offer this because we know that if you apply yourself diligently to this program, you will get great results. This is Personal Responsibility, meaning, you are personally responsible for the actions you take in your life, and those you don't take, and your choices create your results and therefore your reality.
So, you have to do the work, and I promise you, I'm going to make it super fun, and really inspiring throughout, so you'll WANT to do the work, you'll look FORWARD to do the work.
Q: "Fabienne, what if I want to take my time with this program. How long do I have until I no longer have access to it?"
The faster you go through the program and diligently and consistently implement what you learn, the faster you'll get results. (Makes sense, right?) That said, if you are super busy or you are someone who likes to take their time, we've given you 24/7 access to it, with no end. Which means that if you want to revisit it in a couple of years, then you absolutely can.
Q: "I know I want to do this program, but I've got a lot on my plate. Will you be offering this again at any time soon?"
You know I only tell you the truth and here's where I'm going to take a stand for you:
If you want to do this program and you know deep in your heart that you'd get great results from it, then do it now. I may never offer it again, and frankly, I wouldn't delay getting results.
In fact, my answer for people who are wondering whether to make changes in their situation now or wait, is this: why would you unnecessarily DELAY the results you want NOW? Waiting until later to do something that you know will create great results in your life is what I call 'self sabotage.'
Just like starting a family, there's never a perfect time to do anything. You will always have stuff on your plate, you'll always be busy and no time will ever be perfect, except… well, now.
Q: "Fabienne, based on everything I've read and heard about you, I know you're the one I want to learn from and that this coaching program is perfect for me. What's next?"
Great! Did you know that one of the most prominent characteristics of successful people is that they take action? They take educated risks, are decisive, take action, and they move forward towards success faster as a direct result of this. It's a well-known fact these people make decisions based on their gut instinct. So, that being said, since this feels right for you, then go for it.
OK, all you have to do now is click on the "Add To Cart" button, select which option you want (the digital online access OR the physical product one described on the website), fill out your information and then you're in…
Then we hit the ground running!
[divider]
Enroll in the Inner Game Coaching Program ... Today!
[curved]
Option #1:
The "environmentally green" option.
You get immediate digital, online access.
Hint: This is the best deal.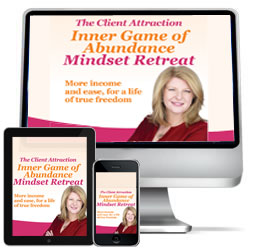 You receive digital online-only access to all the course materials, including videos, audios, and PDFs of all content and extra materials (which you can download onto your iphone, ipad, or computer or just watch online). This is the ultimate on-the-go learning.
$997
pay-in-full tuition
(Yes, you can take us up on our
generous installment option
for a limited time.)

Option #2:
The "I-must-be-able-to-hold-it-in-my-hands!" option.
You receive a big box in the mail
with all the yummy course materials.

You receive a big box in the mail with your 3-ring binder full of content, all 14 DVD's and 22 CD's and extra materials, all shipped right to your door (and yes, we also give you immediate online access so you can get started right away, along with everyone else)
$1,297
pay-in-full tuition
(Yes, you can take us up on our
generous installment option
for a limited time.)

[divider]