[slider name="slider1″ width="960″ height="440″ cats="18″ slides="1″ nav="0″ arrows="false"]
[curved]
OK, so what's this 'Inner Game Coaching Program' all about, anyway?
[dropcap_1 color="#d12f6d"]T[/dropcap_1]he Inner Game Coaching Program (IGCP for short) is a step-by-step Mindset course that shows you how to get out of your own way, find your purpose in your business and in life, take much bigger action, so you start getting a lot more clients and customers, and make a lot more money than you're making now. By transforming your mindset over a very short period of time, you immediately transform your business, your income, your life and how big of a legacy you can leave in the world.
When you shift your Inner Game (your mindset) in this way, everything changes in your life and you start living a fuller, richer, more abundant life. That's why I created the Inner Game Coaching Program and it works like nothing else. (You can read about the extraordinary results that hundreds and hundreds of students of the IGCP have been getting by reading the raving fan reviews of the program.)
This coaching program allows you to systematically stretch your vision of what's possible for you and your business, aligning your business with your purpose, so you can have more income and ease in everything you do.
It shows you exactly how to get clear on why you've been getting in your own way, not progressing as fast as you'd like to by clearing the gunk inside (we're talking about the fears, false beliefs, the rules you have, the feelings of not being good enough, and all that other gunk and sludge) that's getting in your way, and then shows you how to take massive action in your business, with unwavering faith and courage
If you've ever asked yourself, "When's it going to be my turn?", this program is for you. It shows you how to align with a bigger version of yourself and then take action in a way that you've never done before.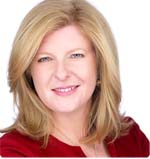 This helps you massively grow your business, make a lot more money authentically, while feeling the most soul-aligned and filled-with-meaning-and-purpose you've ever felt.
Here are some of the results our past graduates are getting
This life-changing coaching program is a systematic approach to clearing your internal blocks that will then help you get more clients and make a LOT more money, without the effort you're experiencing now. Here's what you'll experience in The 'Inner Game Coaching Program':
You'll expand your vision of your purpose beyond what you're currently doing now
You'll discover that everything you want to achieve or manifest in your life already exists and is within arms reach, and that all the tools you need to access them are already inside you
You'll see that the opportunities for you to transcend to your next big level are actually under your nose right this minute
You'll shift the way you think about money (your lack consciousness will shift into abundance consciousness)
You'll understand what stops you from making more money and to change that in a matter of hours
You'll find out how to immediately upgrade your self-image, how you see yourself, and why this is so important for your business
You'll discover the simple process for stopping the "white knuckling" control that fear has on you now so you can then do what you've been unwilling to do before
You'll discover your "big why" and shift the way you think about being aligned with your purpose
You'll discover how to remove your own self-imposed obstacles and live the life you have always dreamed about
You'll release the resentments and judgments you have of other successful people that gets in the way of you experiencing great abundance
You'll immediately shift your limiting beliefs about success, money and how much you can charge, as well as how many clients or customers you can have
You'll experience a breakthrough in acting in spite of your fears (the ones that hold you back from increasing your business dramatically)
You'll free yourself from what others think of you, especially "small thinkers"
You'll also free yourself from the criticism and rejection you've experienced in your life
You'll understand why there is actually no limit to how much you can make or what you can do in this life, no matter what your current circumstances are
You'll release the hand brake of your internal blocks that get in the way of your success
You'll realize how and why you can safely take much, much bigger risks in your life (and what you can use as a safety net when doing so)
You'll begin to truly honor and value yourself and your purpose here
You'll realize very quickly that you ARE enough and that you ARE deserving of all the greatness that is at your fingertips
You'll get the one most important tool you need to get past gripping fear and transcend into much bigger results in your life
This is just the tip of the iceberg, as you'll experience many, many more breakthroughs that will have you create astounding new results in your life, without struggle. THAT is when the faucet of abundance gets turned on and flows effortlessly for you (I've experienced it and hundreds and hundreds of my students have too after going through this mindset-shifting process.)
Can you see that this 'Inner Game of Abundance' system is both a very powerful and a very graceful process? It is about clearing the internal blocks that get in the way of receiving the abundance that is waiting for you.
It's very powerful and the miraculous thing is, as soon as you begin implementing the subtle steps, your WHOLE LIFE changes. You begin to allow in the good stuff. You no longer repel the abundance you've been asking for but not letting in.
(Hint: it's not about working harder; it's about shifting the internal gunk that stops you, changing your mindset around money and releasing mediocrity.)
There are two ways to experience the program, your choice …
Everyone learns differently, so this coaching program comes in two flavors, depending on whether you like to have a physical product in your hands (like me) or if you're a totally "wired" kind of person who likes everything to be digital (like my husband).
[divider]
Option #1:
The "environmentally green" option.
You get immediate digital, online access.
Hint: This is the best deal.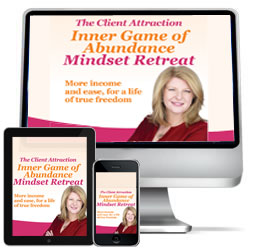 You receive digital online-only access to all the course materials, including videos, audios, and PDFs of all content and extra materials (which you can download onto your iphone, ipad, or computer or just watch online). This is the ultimate on-the-go learning. (Yes, you can take us up on our
generous installment option
for a limited time.)

Option #2:
The "I-must-be-able-to-hold-it-in-my-hands!" option.
You receive a big box in the mail
with all the yummy course materials.

You receive a big box in the mail with your 3-ring binder full of content, all 14 DVD's and 22 CD's and extra materials, all shipped right to your door (and yes, we also give you immediate online access so you can get started right away, along with everyone else) (Yes, you can take us up on our
generous installment option
for a limited time.)

[divider]
Whichever option you choose (the faster, more environmental "online-access" option, or the "ship-it-all-to-me" option) there are two aspects of this Coaching Program that you'll really appreciate:
You choose your own pace of transformation.

The curriculum is not forced upon you or given to you on a rigid schedule. I know how busy you are… at work, at home, and just in life in general (I get it. I am too!) So, one of the aspects of the program you'll totally appreciate is that you can go through it at your own pace. You can make a commitment to watch just 10 minutes a day with your morning coffee, or maybe a video a day after dinner with someone you love; maybe you decide to watch one video a week on a Saturday morning or you can decide to go whole-hog and watch all the videos over the course of this upcoming weekend. We've set it up so you can enjoy your own pace of learning, one that feels comfortable for you (believe me, you won't fall behind because the other 'Inner Gamers' will inspire you to keep going, but more on that later.)

You have lifetime access to the materials.

Some people consume the content in a weekend, and then go back again and again to fine-tune and sharpen the saw, experiencing different levels of transformation each time they experience the content, soaking in more of the yumminess, time and time again. Others prefer to take their time and let it all soak in little by little for a deeper effect. Either way, you win because the good news is, there is no time limit for you to enjoy this course. You officially have lifetime access to it all. (You're welcome. ☺)
Now that you've read the contents of the Inner Game Coaching Program curriculum, can you see how, in just a short time, you will become invincible and fearless? And how that will create so many more results and abundance in your life?
Built-in accountability structures so you can soar
So, here's what I know about life … when you are surrounded by a tribe that believes in you, expects only the very best from you, when you have an accountability-based environment that sets you up for success, you soar!
That's why this Inner Game Coaching Program comes with a crazy amount of love and accountability already built-in.
Almost immediately, you'll get an invitation to join your sacred tribe of the other 'Inner Gamers' for a private, highly-interactive, collaborative and loving community on Facebook. This means you have access to all your yummy peers going through the program at the same time you are and you can get even more feedback, resources, accountability, brainstorming and a place to celebrate your wins.The networking opportunities in this group are off the hook and the unconditional support and love you'll get here is something you'll come to cherish forever. You get this for an entire 12 full months.
(valued at $1,200)
Each weekday morning, you'll receive a Daily Accountability Email from me that will help you focus on what specific action matters most for you to take that day. Each different accountability email will give you key implementation strategies and focusing tactics to keep you on task and focused on your immediate results and your long term goals. This allows you to accomplish so much more in your business than you would on your own.
(valued at $3,000)
As soon as you join the program, you will be encouraged to reach out to the other students in the private Facebook group to select a Daily Accountability Buddy to speak to for 5 minutes on the phone or Skype each weekday morning to hold each other accountable for implementing and taking bigger action in your business each day. It's your choice who you select. Perhaps you want someone in the same industry, in the same time zone or country. The key is to focus on selecting someone you will resonate with and enjoy speaking to every day.
(valued at $3,000)
You have 24/7 lifetime access to the Inner Game Coaching curriculum and program members-only area where everything is there for you to access. You don't ever have to worry about misplacing a video or any of the content. All the video presentations, audio files, handouts and bonuses are there when you need them, for you to access them from any computer, today, or even in a few years' time.
(valued at $10,000)
6 coaching calls with me
As part of the Inner Game Coaching Program, you receive six live "Open Office Hours" laser coaching calls with me, so you can ask me questions, get clarity on your next steps and implement faster. You'll come to the group calls with specific questions, and I'll give you specific answers to get you moving forward very quickly. Show up early or send in your question by email and I'll answer as many of these as I can within the time that we have each call.
(valued at $9,000)